Retreat Guesthouse (Uganda)
Beautiful Garden - Lake View (between Entebbe and Kampala)
Facts

Booking only by phone:
+256-772-429397
Breakfast and
parking included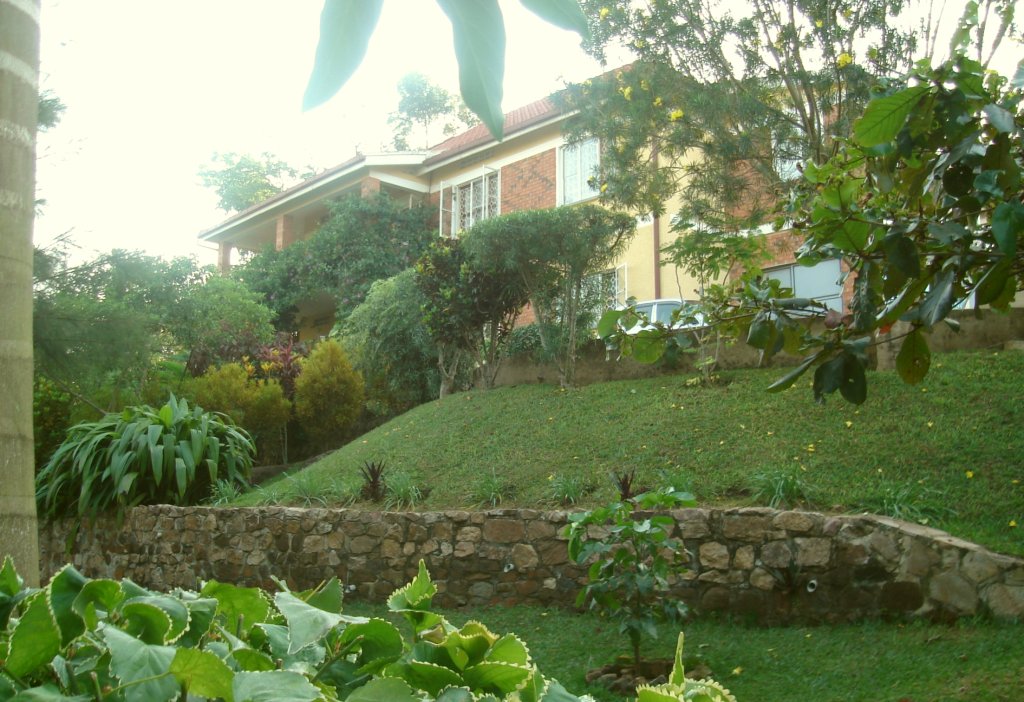 Rooms and Prices | Parking | Location | Contact / Address | More Pictures


The Guest House is located off Entebbe Road, about halfway between Entebbe and Kampala up on the beautiful hillside of Kitende (near Kajjansi).
There are four bedrooms and a living room with a verandah for the guests.
The rooms are designed for 2 to 3 people.

Hellen, the landlady, is most committed to European standards of professional housekeeping which is a reason why so many of her guests keep coming back to her place when they travel in Uganda or come to the capital Kampala for business.
She speaks English and some regional African languages. Her son knows some German.
Most of the guests are international, mainly from Europe and many of them come with their families.
What they all have in common is the appreciation of the high standards of security, the peace and quiet, and the wonderful garden.
The large variety of birds inspires a truly exotic atmosphere and makes the place a paradise for birdwatchers.


Accommodation / Rooms and Prices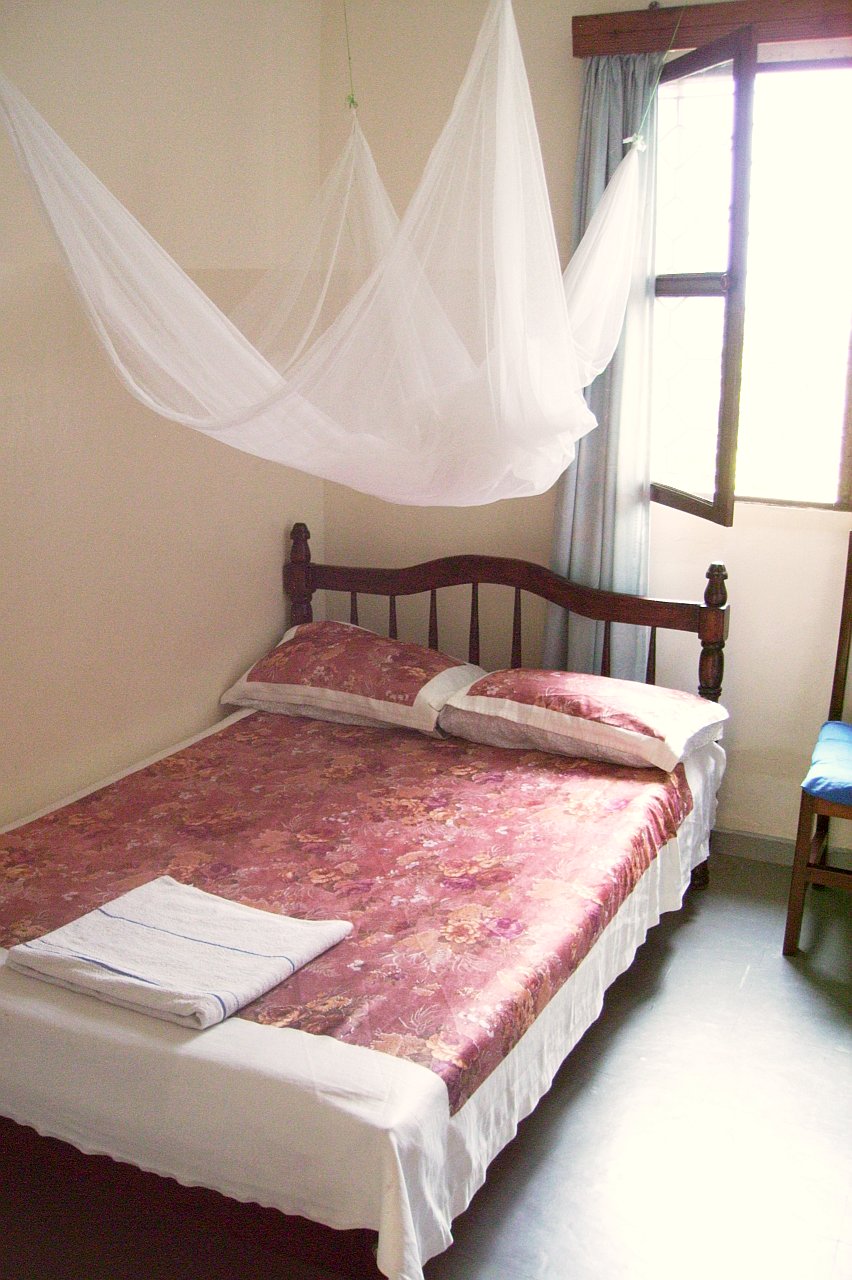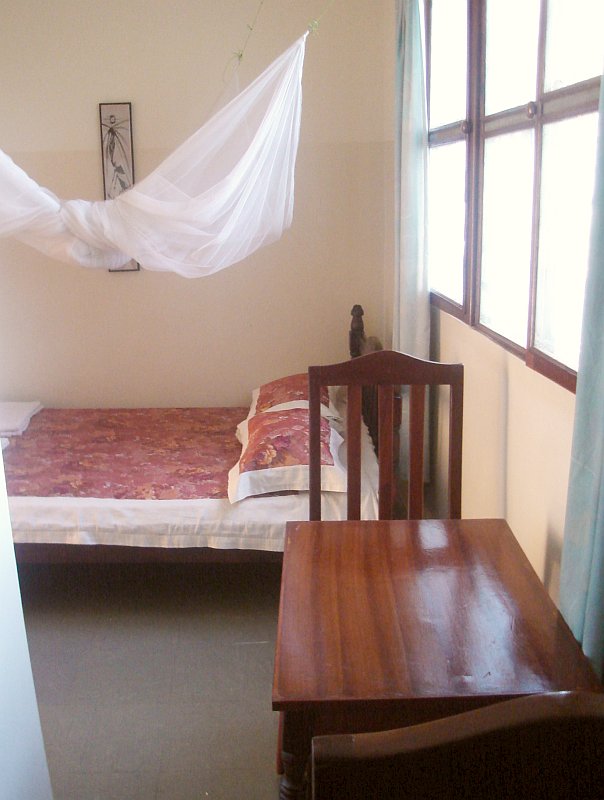 The guest house is on the ground floor (the first floor is private). It has four rooms with double beds, single beds or both. Three of the rooms are self-contained, one of them has a large extra bathroom with warm water. Two of the rooms have a connecting door which makes them convenient for families. Extra mattresses are available on request.
Additionally, there is a cosy living room with access to the verandah and garden.
In case of power cuts there is a backup system for electric lights.
A laundry service is offered at a small fee.

Breakfast is included in the room price ("Bed and Breakfast" / "B&B").
Choose between different kinds of breakfast, Continental, German, African - or if anything else - just voice your personal preferences.
You can also have lunch and dinner on request.

Soft drinks and beer are available at a small kitchen on the same floor at any time.

The Guest House is not a hotel but it really provides good accommodation standards at prices of a hostel.
Room prices range from 40.000 (one person) to 50.000 (two persons) UGX (- no credit cards, no foreign currencies). The rooms are designed for 2 to 3 people.

(All prices from March 2017, please ask for the current prices.)

Parking
There are parking facilities (free of charge) for several cars on the premises, so security is not a problem.


Location (Kitende/Kajjansi between Entebbe and Kampala)
Address
Hellen Arinaitwe - Manager
Phone: +256-(0)772-429397
Plot 1110 Kitende near Kajjansi
(off Entebbe Highway - Google-Coordinates: 0.200884, 32.535901)
P.O.Box 202, Kampala - Uganda
Situated at Kitende, right between Entebbe and Kampala (get off Entebbe Highway at Kajjansi, take Muwonge Rd.) you can appreciate the rural surroundings and quiet atmosphere of the hillside and yet the airport or the capital (Central Kampala) are just at a 14-26km distance (see map).

When you reach the village of Kajansi along the highway you just have to find your way up to Kitende (opposite direction of Kajjansi Airfield) - ask for the Anglican Church (Church of Uganda) on top of the hill - the guest house is just underneath.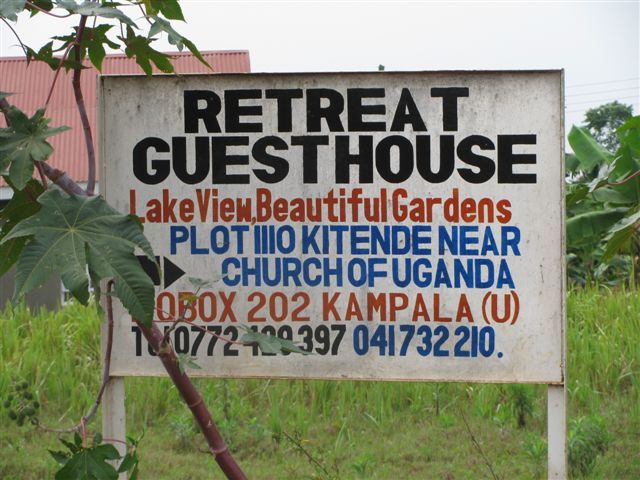 You will also find a signpost "RETREAT GUESTHOUSE" along Entebbe Highway at Kajansi, telling you where to get off the road.

Welcome!


More Pictures
The Guest House - The garden (corner) - The garden (swing) - Another room - The beautiful view from the Guest House

Thank you for visiting...